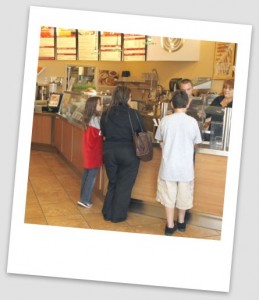 There are many things that come to mind when the subject of Quick Service Restaurants (aka QSR/Fast Food) comes up. Over the past fifty years the proliferation of QSR locations have flooded the landscape to the point where it has changed our eating habits, our expectations for low price and convenience and of course the way we grow and process our food. These days, the business is as competitive as ever and QSR competitors are searching for new ways to attract and retain customers while others are  trying to deal with ever changing management structure.
When I worked for McDonald's Corporation as a Regional Marketing Supervisor, in addition to being in the field, I attended Hamburger University and learned a lot about how McDonald's ran its massive business and was duly impressed with its simple business strategy of owning the land and leasing it to Owner Operators and then charging a rent fee based on the restaurant sales figures. It was a great learning experience to be immersed in corporate America and to be a part of the inner workings of one of the countries most recognized symbols of capitalism. It gave me a unique perspective to view both the positive and negative sides of the QSR business and to focus on what works and avoid what is detrimental to the business, the consumer and the environment.
What works now for McDonald's is its new and expanding beverage business. I think it's a smart move and will certainly position McDonald's to compete for the attention and dollar of the ever-fickle consumer. A recent article in USA Today provided a good review of McDonald's latest venture into expanding its beverage selection with iced smoothies and frappés in addition to its McCafé offerings. The article states: "Morgan Stanley analyst John Glass doesn't blink when he says the new beverage mission "is the biggest thing McDonald's has done since it rolled out breakfast." That's no small matter, as breakfast, which began in 1977, now accounts for 25% of McDonald's near $31 billion in domestic sales."
And I would agree that the beverage business in coffee drinks and smoothies represents a huge game changer for McDonald's. When I was DCS at The Lavidge Company we represented the McDonald's Phoenix Co-op and I remember speaking with a number of Owner Operators who were excited with the introduction of McCafé (although not so happy about the $80,000 – $100,000 investment) noting that this was a great way of increasing traffic and (hopefully) adding to the average check with a purchase of a burger and fries. The goal for McDonald's now is to become a beverage destination and my own first hand experience would assert that is true. While at Creative Link, colleagues and I would often head to McDonald's for premium coffee and lattes instead of Starbucks (and two of those colleagues were vegetarians who would never visit any QSR) because the McDonald's coffee was indeed very good and it was cheaper. McDonald's is predicting that the incremental sales with the new specialty beverages could be as high as $1.5 billion — or $125,000 per store — which is huge when considering the history of adding new food products has been a gamble that hasn't always off. Do you remember McPizza?
What hasn't been working are the recent troubles at Burger King. Despite five consecutive years of increased same-store sales, there have been major issues with management and franchisees. The Wall Street Journal published a recent article about franchisees launching two class-action lawsuits challenging management decisions. "While squabbles between a franchiser and its franchisees aren't uncommon, those at Burger King are notably bitter, and have drawn Wall Street's attention. Citing the continuing hostilities, two brokerages have downgraded Burger King's stock." One of these suits is "contending the company mandate that franchisees sell a double cheeseburger for $1." Franchisee's are opposed to selling the double cheeseburger for a dollar which is supposed to increase customer traffic – but ultimately causes loss in cash flow.
There are two things that come to mind with regards to selling food at such incredibly low prices. First, Owner Operators at McDonald's were also split on increasing the price of their double cheeseburger but ultimately it did increase by an average of 20 cents. However, they still had a dollar offering called the McDouble which is the same burger minus a piece of cheese. The Dollar Value Menu has fast become a standard at most QSR's and has created a cycle that is hard for any of them to break free from in fear of losing market share.
The second issue is the practice of setting consumer expectations that food is truly this cheap when it really isn't.  Although some may consider it radical, the movie Food Inc. presents a host of very serious issues with the way our food is subsidized, mass processed and environmentally irresponsible. Most of us have read about how cheap food causes problems for lower income people who are forced to choose between that tantalizing $1 burger and healthy food which is more expensive and has less marketing muscle behind it. Understandably, the QSR Owner Operators may be mostly concerned with their cash flow and profitability rather than the day-to-day choices faced by people with modest means, but what happens is this cycle that is hard to break. People buy the cheap food for lack of choices and QSR's don't want to lose market share or the even the minute chance of trading-up these people for more profitable items on the menu.
So where does the QSR business go from here? I am not sure I have the answer(s) but I do know that if consumers want change they will get it if they organize and make it happen. One may remember 23 years ago when the foam clam shell containers were phased out due to the harmful CFC's used to make the foam containers. Another idea is for the QSR industry to find more healthy choices (not just salads). And these new beverage choices could be a start if they find a way to keep the sugar and fat content down. And the last point is how do we figure out how to provide an alternative for the highly addictive (and tasty) sugar- fat- salt combination that is so prolific in our daily lives? It's hard to avoid and hard to do. Any ideas?